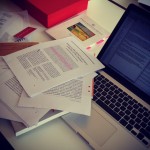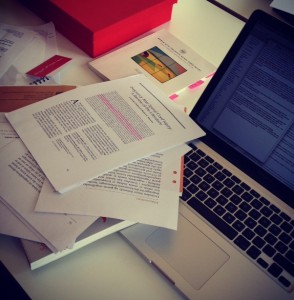 Inom ramen för detta projekt ska vi sprida information kring ryggmärgsskadade och fertilitet, graviditet, förlossning och föräldraskap. Det är så mycket jag inte vet och det är så mycket som jag känner mig girig att få veta. Nu har vi satt oss vid skrivborden och börjat läsa och leta efter artiklar och litteratur kring ämnet. Det är inte mycket som har skrivits om graviditet och förlossning här i Sverige. Nästan överallt där jag läser refereras Ninni Westgrens avhandling "Women with traumatic spinal cord injury – sexuality, pregnancy, motherhood, quality of life" från 1999. Jag kan tycka det är konstigt att det inte har kommit någon text/avhandling om ämnet efter det. Något som kan ta över, visa det senaste inom förlossningsvård och tankar kring kvinnors graviditeter.
Det finns däremot omfattande litteratur om manlig fertilitet, men så är det också ett mer komplicerat ämne än kvinnors graviditeter och förlossningar. Det är ju trots allt fler män som skadar sig än kvinnor. Och generellt riktar sig den svenska vården och rehabiliteringen till män. Ja ja, vare sig läsaren är man eller kvinna så är det intressant att läsa Ninnis kapitel om sexualitet. Det fanns speciellt en mening som fastnade i mitt minne efter att ha läst avhandlingen. Rubriken är "The Rehabilitation Phase" och i texten diskuterats olika forskares syn på rehabilitering och sorgen över att förlora kontrollen över sin kropp.
Meningen lyder:
Perhaps mourning becomes a permanent state in those individuals who never come back to a sexually active life.
Är det så? tänker jag. Är människans sexualitet så starkt knutet till jaget och vår självkänsla? Jag vet inte… jag har väl haft en "lyckad rehabilitering då" eller vad ska jag säga… även om jag är negativ till den så kallade rehabiliteringen jag fick.
Men hur ska man kategorisera personer som har valt att leva i celibat? Jag tycker det låter som en alldeles för enkel lösning att säga att vårt sexuella liv ska rädda oss. Freud hade gillat det! Våra undermedvetna (à la 1920-talet) drifter ska inte underskattas! Dom finns där som spöken i garderoben som tittar fram då och då – när vi minst anar det.
Min läsning fortsätter och det är mycket intressant läsning, inte minst Ninnis avhandling. Nu fortsätter jakten på nya artiklar. Denna gång har jag lyft näsan från den rara skaran av svenska texter och spanar ut över alla de engelska… ni får ta del av allt när vår webbplats mammapappalam.se lanseras i Maj!